In January 2011 Igor Grishin and Mikhail Emelyanov held a Go game workshop for Snob magazine.
"Snob is an international project and a one-of-kind social medium for people, who live in various countries around the world, speak various languages but think in Russian." — states the website of this project. More than 100 people accepted invitations to our presentation. The major part of the participants were the members of Snob Club and guests of Mildberry Branding Agency where our workshop took place. Nobody knew about Go before. As a result more than 50 people took part in this event.
Igor Grishin found an original conception for this workshop. Each participant chose one of the three roles: a pupil (only 5 people), a listener or a viewer. Participants who chose to be listeners could stay away from the game but were able to ask questions during the workshop. Viewers could just watch how Igor Grishin explained the rules of Go and how pupils were learning them and trying to play.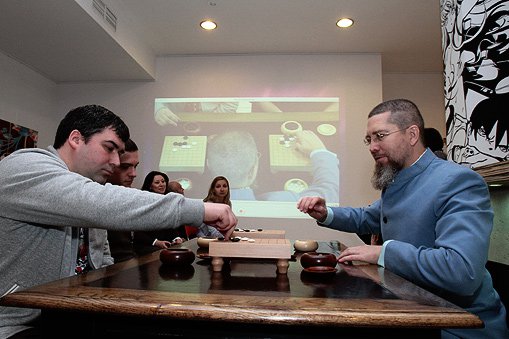 Pupils study the rules of the game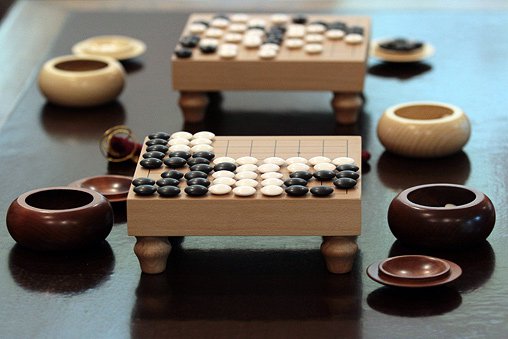 9×9 Go boards from Czech Republic is an elegant solution for Go presentations!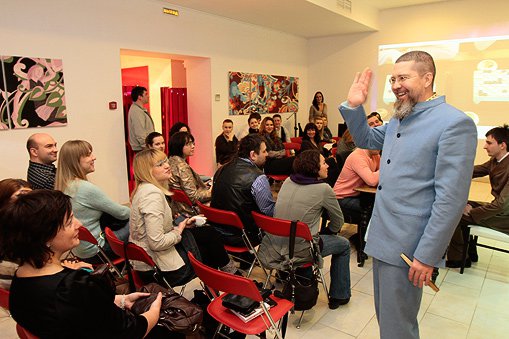 Igor Grishin greets the guests of the workshop.
Some videos from this event in Igor Grishin's blog
Also see the photos of participants' impressions on Snob site